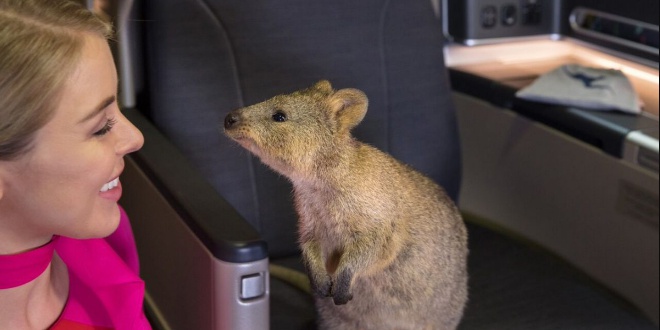 PIC: Supplied
The new Qantas Dreamliner has been named "Quokka"
Qantas' third Boeing 787-9 Dreamliner has been named after Rottnest native creature the quokka.
Quokka was among the most popular suggestions in a national poll of more than 60,000 entries to name the airline's fleet of eight Dreamliners.
Qantas International CEO Alison Webster said the quokka and the flying kangaroo would make a great team to help entice international visitors to Western Australia.
"There may be some head scratching moments when people see the name of this aircraft at airports around the world, but a quick internet search will make them immediate quokka converts, and might even encourage them to take a trip," she said.
Direct flights from Perth to London start in March and the Quokka Dreamliner will be used for some of the services.
West Australian Tourism Minister Paul Papalia welcomed the announcement.
"The Quokka, known as the world's happiest animal, is truly unique to Western Australia," he said.
"Our pristine Rottnest Island, just a 30-minute ferry ride from Perth, is the only place on the planet where people can mingle with the beloved marsupial," he said.
"We can't wait to welcome new visitors to Perth, and I know the quokkas will be ready to star in any holiday snaps."
Quokka, which has the official registration of VH-ZNC, will operate the new Perth to London route as well as other Dreamliner routes to the United States.
It is currently undergoing final delivery in Seattle and is expected to land in Australia in late January.
Quokka will also be joined by a Dreamliner called Skippy later this year.
Qantas' first two Dreamliner aircraft have been named Great Southern Land and Waltzing Matilda.
Each name is painted beneath cockpit window.
The sequencing of the remaining names will be revealed as the aircraft are delivered.