World renowned author J.K Rowling has been left in fits of laughter over US President Donald Trump's writing skills on twitter.
The President tweeted about 'fake news' (shocking, we know) and said journalists "pour over" his tweets looking for errors.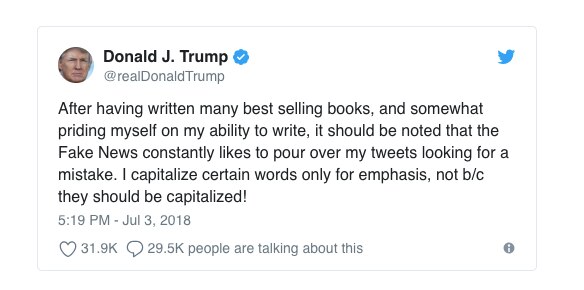 Image: Twitter/DonaldTrump
Of course the phrase is spelt 'pore over' and J.K. literally could not control herself; posting three tweets full of laughter before calling him the "Gratest Writer on earth."
'pour' hahahahahahahahahahahahahahahahahahahahahahahahahahahahahahahahahahahahahahahahahahahahahahahahahahahahahahahahahahahahahahahahahahahahahahahahahahahahahahahahahahahahahahahahahahahahahahahahahahahahahahahahahahahahahahahahahahahahahahahahahahahahahahahahahahahahahahahaha

— J.K. Rowling (@jk_rowling) July 3, 2018
*wipes eyes, tries to control breathing*
Seriously, @realDonaldTrump is the Gratest Writer on earth.

— J.K. Rowling (@jk_rowling) 3 July 2018
Boom. J.K out.